Proscuitto-Wrapped Melon Recipe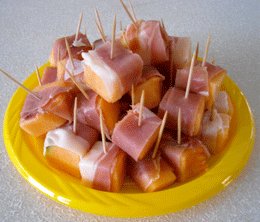 If you're looking for a quick and easy appetizer for a party and don't want to do any cooking, proscuitto-wrapped melon might do the trick. All you need is a melon (cantaloupe or honey dew) and some very thinly sliced proscuitto. You can also use toothpicks for easy sampling, but they usually aren't necessary to hold the meat to the melon.
Just peel the skin of the melon and then cut it into about 1 inch cubes. Given, the shape of a melon, perfect cubes aren't always possible, but if you cut from the middle and save the outside round edges for later, you'll get the more cubes.
Next, cut your proscuitto into the thin strips and wrap them around the melon. Pierce with a toothpick and place on your serving dish. Repeat until everything is all wrapped up.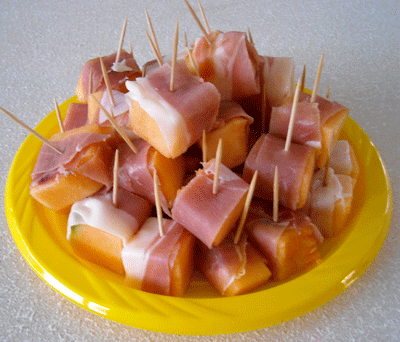 Our Favorite Tshirt Collection