Pork Roast with Garlic, Thyme and Rosemary Rub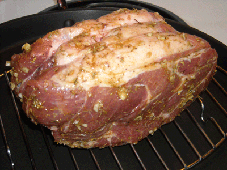 It's no secret that we love pork roasts around here. It always turns out as such as an impressive meal, but really is quite simple. All you do is put a little stuff on the outside, stick it in the oven and several hours later, you've got a nice piece of meat.
Today, I played around with using a new rub on my pork roast and it was divine. I used a 3 pound pork shoulder blade roast and it turned out crisp on the outside and juicy on the inside. In short, it was PERFECT! Pork shoulder blade certainly isn't the leanest of meats, but most leaner cuts tend to taste so dry that I don't think my husband would allow me to do it. We just make up for it by serving plenty of fresh steamed vegetables on the side.
Ingredients for the Rub:
* 2 cloves garlics, finely chopped
* 1 tsp kosher salt
* 1 tsp thyme
* 1 tsp mustard powder
* 1 tablespoon olive oil
Mix all those in a large bowl. Then add the roast and rub it all over. Once it's coated, your roast is ready to roast. I roasted this one at 350 F for about 3 hours, but always cook yours to an internal temperature between 145 – 160 F. I usually go for 160 F because it's what I've always been told, but according to this article, the safe cooking time has been changed.
The end result is a nice crispy on the outside and juicy on the inside roast. It's shown here with some Czech sauerkraut. We also served it with fresh gnochhi and lots of steamed vegetables.
Our Favorite Tshirt Collection