Beef Stew in the Crockpot Recipe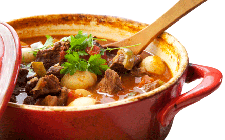 Beef stew is always a hearty meal and it's super easy when you use your crockpot. Just a few simple preparations in the morning and your stew will be ready by dinnertime. Easy peasy.
I make stew a number of ways and with a number of ingredients. Here is my favorite.
Ingredients:
2 pounds stewing beef, cut into approximately 1-2 inch cubes.
4 large russet potatoes, peeled and cut into 1 inch cubes.
4 carrots, peeled and cut into 1 inch chunks
2 stalks celery, cut into 1 inch chunks
2 cloves garlic
1 5 oz can tomato paste
1 12 oz can tomato sauce
1 tablespoon Worcestershire sauce
2 bay leaves
1 tsp dried thyme
1 tsp dried rosemary
Salt
Pepper
2 tablespoons flour
Fresh parsley for garnish
Many recipes call for pan frying the beef upfront, but I don't think it's necessary. Just put the beef, potatoes, carrots, celery, tomato paste, tomato sauce and seasonings (excluding the salt and pepper0 in the crockpot. Make sure you place the bay leaves near the top, so you can retrieve them before serving.
Place your crockpot on a low setting for about 8 hours. If you're in a hurry, you can cook it on high in about 5 hours. Before serving, add the salt and pepper. Also add the flour, so the sauce will thicken. Stir into the stew and cook for another 10 minutes or so, until thickened.
Throw out the bay leaves, garnish with fresh parsley and serve.
Our Favorite Tshirt Collection