Roast Chicken Dinner – All in One Pot
There's nothing quite as satisfying as pulling a complete dinner out of the oven in just one pot. For this recipe, you can include the vegetables that you'd like and certainly change the seasonings on the chicken. It's easy to make variations that suit your tastes and what happens to be in your fridge and pantry.
By the way, this wet rub is delicious. I`m making another roast chicken tonight and plan to use it again.
Ingredients:
• Potatoes
• Carrots
• 1 whole chicken
• 3 tablespoons olive oil
• 1 teaspoon sage
• 1 teaspoon thyme
• 1 tablespoon parsley
• 1 teaspoon rosemary
• ½ tablespoon kosher salt
• ½ cup water
Also, keep on hand cutting board, vegetable peeler, sharp knife, small bowl, measuring cups and spoons and roasting pan with lid (or pan with foil).
Preheat your oven to 375 F.
Prepare Your Vegetables
If you're using russet or other similar potatoes, peel and quarter them. If you're using yellow or red potatoes, you don't need to peel them as their skins will taste delicious. For smaller potatoes, cutting may not be necessary either.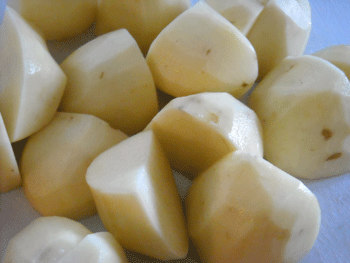 Peel and cut the onions in large chunks. Then peel the carrots and make sure they're in fairly large chunks too or they will shrivel up.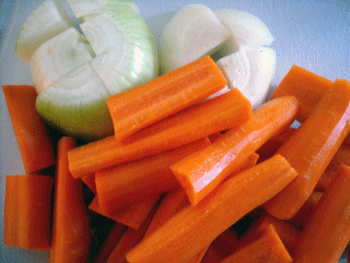 You can choose other dense vegetables if you prefer. Chunks of corn on the cob, celery, yams and garlic would all fit the bill.
Prepare the Chicken
We're making a simple wet rub that adds plenty of flavor. Just combine the olive oil, sage, thyme, parsley, rosemary and kosher salt in a small bowl.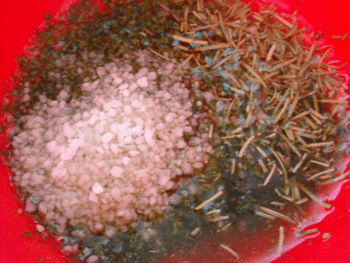 Mix until thoroughly combined. Then rub all over the chicken, including the cavities, under the wings and legs.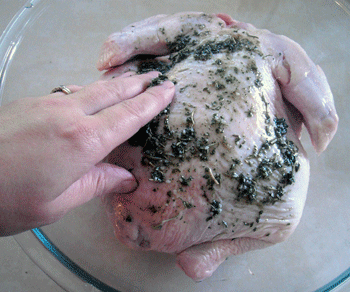 Get Ready to Roast
Place the chicken into the roasting pan. We prefer breast-side down, so the juices can get into the breast meat.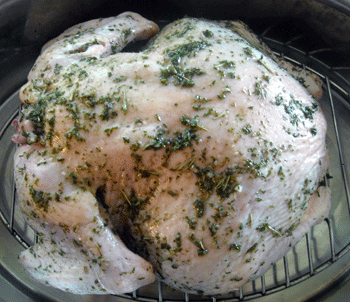 Then arrange the potatoes around the roast. We're using a fairly small roasting pan, so we have only 4 large potatoes going around our chicken, but if you've got a bigger roast, add more potatoes. You can slice them and fry them at breakfast time tomorrow.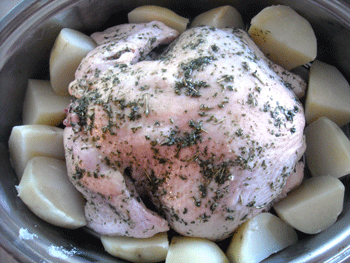 Finish arranging the remaining vegetables around the chicken.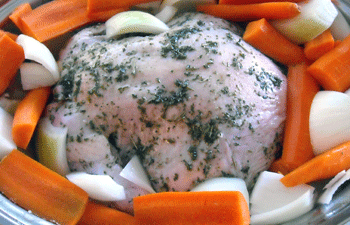 Finally, add ½ cup of water before to the roasting pan before placing it in the oven. This will allow you to collect more pan juices from the bottom of the pan.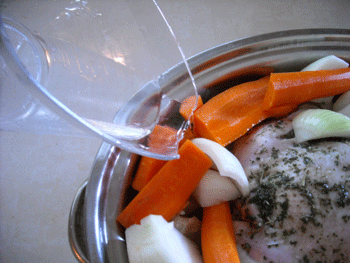 Roast
Place the lid on your roaster and place it in the oven. If you don't have a lid, you can make a foil tent over the roasting pan.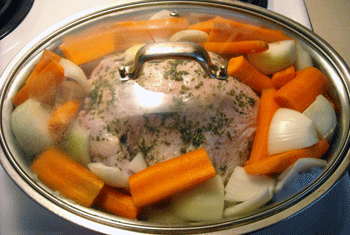 Roast until chicken reaches an internal temperature of 165 F, basting every half hour or so. For a more crispy skin, remove the lid in the last ½ hour or so of roasting.
Our Favorite Tshirt Collection