Chocolate Pie Recipe – Oh My!
As I post this, I am still fighting the urge not to go back for another slice!
If you're looking for a creamy chocolatey pie, look no further. This recipe is all you need and the filling uses ingredients you probably already have in your kitchen.
You can use a pre-baked pie shell or a graham cracker crust. I prefer a homemade crust made with whole wheat flour and the pie filling also includes whole wheat flour. While we can't saythis buy his healthy, we can we've added a little bit of nutritional value by not choosing white flour!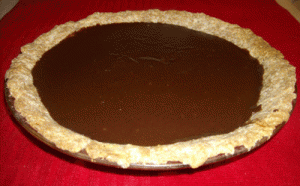 Ingredients Needed:
•    ¼ cup unsweetened cocoa powder
•    1/3 cup whole wheat flour
•    1 cup water
•    2/3 cup milk
•    3 egg yolks
•    2 tablespoons melted margarine
•    1 teaspoon vanilla
•    1 x 9-inch pre-baked or graham cracker pie crust
Also, keep on hand a double boiler, measuring cups and spoons and a whisk.
Serves: Makes 1 x 9-inch pie
Set up the Double Boiler
Place enough water in the bottom boiler so it doesn't touch the top boiler. Place on high heat to bring the water to a boil.  I don't actually have a double boiler, and I use a large heat-safe Pyrex bowl over a pot. I'm not sure if that's safe according to the manufacturer's instructions, so if you try it, do so at your own peril.
Add Your Ingredients
Start by putting the cocoa and flour into your double boiler and whisk until fully mixed. Once the water is boiling, add ½ the water and mix thoroughly. Then add the rest of the water, milk and 3 egg yolks and again, whisk thoroughly until combined.
Keep the water boiling and stir the chocolate mixture occasionally until fully thickened, but do not overcook. It should be nearly as thick as you want the finished pie to be. When you run a spoon through, it should form peeks. It can take up to 40-50 minutes before it is fully thickened.
Remove from heat and stir in the butter and vanilla.
Pour, Chill and Serve
Pour the mixture into the pie crust and place in fridge to set for about 3-4 hours. Serve with whipping cream and enjoy.
Our Favorite Tshirt Collection