Fresh cheese sauce is actually fairly easy to make, as long as you follow the instructions. This recipe is totally step-by-step, so you can't mess it up.
You can pretty much substitute any type of cheese you want. We've chosen a mixture of havarti and cheddar, but the choice is yours. I usually add whatever cheese we have on hand. Serve it on broccoli, cauliflower, pasta, chicken or really, anything you'd like.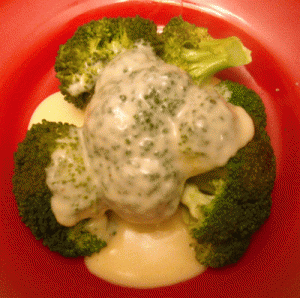 Ingredients Needed:
• 3 tablespoons butter
• 3 tablespoons flour
• ¼ teaspoon salt and pepper
• 1 ½ cups milk
• 1 cup shredded havarti and cheddar (or any shredded cheese totaling 1 cup)
Also have on hand small sauce pan; measuring cups and spoons; and a whisk.
Serves: Makes about 2 cups cheese sauce.
How to Make the Sauce
The secret to a nice creamy sauce is to whisk it constantly. Don't walk away or you may get a lumpy sauce. The sauce takes about 8-10 minutes of cooking time, so make sure you can give it your undivided attention.
1. Melt the butter over medium heat.
2. Add the flour, salt and pepper. Whisk thoroughly.
3. Start adding the milk, a little bit at a time. Whisk thoroughly each time.
4. Continue whisking until the mixture is fully thickened.
5. Remove from heat (this is important – you don't want to cook the cheese) and stir in the cheese
That's all it takes and now your sauce is ready to serve.
Our Favorite Tshirt Collection