Leftover Turkey Sandwich Recipes
Getting people in this house to eat leftovers isn't always easy. That's why I have to get really creative when it comes to sneaking turkey into sandwiches after a big turkey dinner. Here are a few ideas to add some excitement to turkey sandwiches for you.
The Dinner Roll Sandwich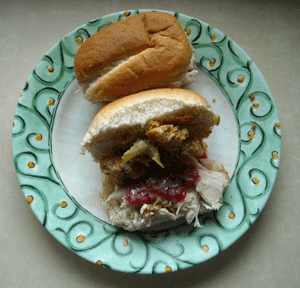 Forget about boring old bread, we're going to use the dinner rolls as our sandwich bread. That way, we got some delicious bread to eat and nothing goes to waste from last night's dinner.
Since dinner rolls tend to small, make two sandwiches per person and you've got a delightful lunch.
Of course, everyone can choose what they want on their sandwich, but in our example here, we've pretty much used it all. From to turkey and stuffing to cranberry sauce and gravy, it's all on there.
Turkey Salad Sandwich
Instead of chicken salad, you can make sandwich filling with leftover turkey. Simply chop up some turkey and a bit of celery finely using a food chopper or food processor if you have one. Add spoonful of mayonnaise, a little bit of mustard and pepper to taste. Serve on bread with lettuce and tomato.
Hot Turkey Sandwiches
It's like a quick turkey dinner on bread…YUM! Place a couple of pieces of bread on a plate and set aside. In the meantime, add some turkey slices and stuffing into a saucepan and stir fry in leftover gravy. Once it's heated through, put it on your bread and top with cranberry sauce.
Turkey and Brie Focaccia Melt
This is a sweet and savory delight. Slice some focaccia bread in half. Add sliced turkey and a slice of brie or other favorite white cheese. Bake in the oven at 350 until cheese starts to bubble. Then top with cranberry sauce and some lettuce, if you'd like.
Our Favorite Tshirt Collection