If you've never tried any brined poultry, you're missing out. The process of brining (soaking the bird in a salt/water and other flavoring mixture) helps create an incredibly moist and flavorful piece of meat. If you're planning ahead for your Thanksgiving dinner, consider adding the process of brining to your meal preparations. You won't regret it.
My husband has brined several chickens, but they often end up tasting quite salty, even though it was still very delicious and moist. I'm not sure if it's because the turkey is considerably larger, but this one never turns out tasting salty, just darned amazing.
This recipe is enough brine for a 10-12 pound turkey.
What you need to get started:
2 ½ gallons water
2 carrots
2 celery
1 onion
1/2 tbsp parsley
1/2 tbsp thyme
3 bay leaves
1 orange
1 lemon
1 cup kosher salt
Also, keep on hand sharp knife, cutting board and a large stock pot.
Chop the Vegetables & Fruits
Roughly chop the carrots, celery and onion. You don't need to peel the carrots as the carrots won't be eaten, just used for flavor.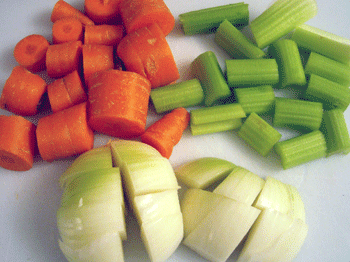 Slice the orange and lemon in half.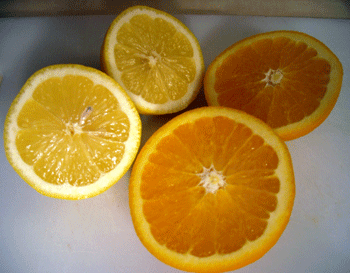 Load up Your Pot
Add 2 ½ gallons of water to a large stock pot. Then add your vegetables to the pot of water.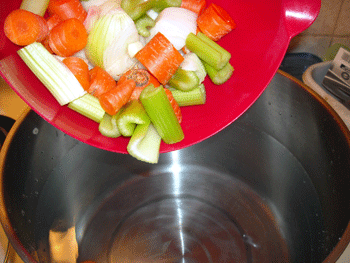 Thoroughly squeeze lemon juice into pot and then drop the lemon pieces in.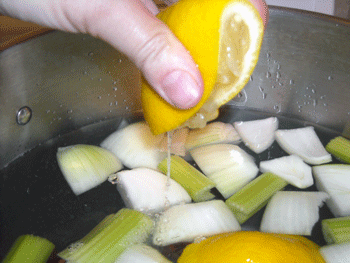 Squeeze the orange into the pot and add the pieces as well.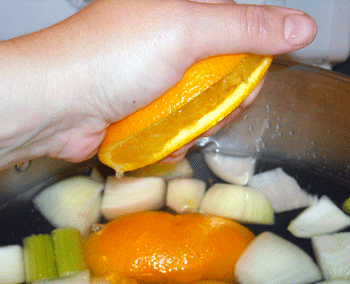 Add ½ tbsp each of parsley and thyme.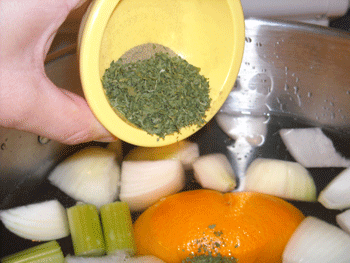 Next, add 3 bay leaves.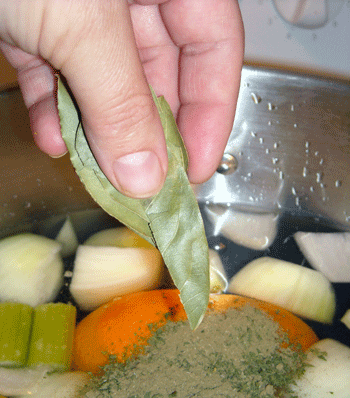 And finally, add the 1 cup of kosher salt. Use about half if you're using regular table salt.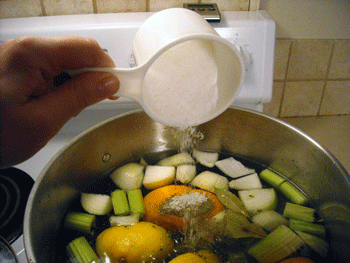 Now you're ready to create your brine.
Prepare the Brine
Turn the stove to high heat and bring the brine to a boil, but not let it simmer. Turn it off as soon as it starts to boil and remove it from heat immediately. You don't want to cook the ingredients, but rather steep them, much like you steep tea. And I tell you, it's smells like tea and fills your home with a pleasant smell.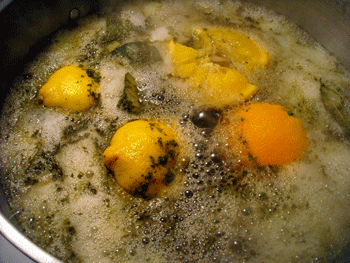 Allow the brine to cool completely, which can take several hours. Do no place the turkey in warm or hot brine as it will start to cook the turkey. Once the brine has cooled, use a skimmer or slotted spoon to remove all the fruits and vegetables.
Begin the Brining Process
Gently lower your turkey into the brine.
Cover the stock pot and chill overnight, up to about 12 hours. When you're done, remove the bird, pat dry and start roasting.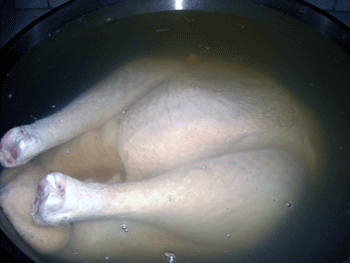 TIP: Because there is a considerable amount of salt in the turkey already, it's probably best to avoid using any ingredients with salt for the roasting process.
We'll talk how to roast this one in just a short bit.
Our Favorite Tshirt Collection