Free Printables: Get Your Gift Giving & Card Sending Organized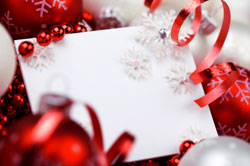 Only a few weeks until the big day. If you're not organized yet, it's not too late. We've got some handy printables to help you organize your gift giving and card sending.
Download Yours:
Holiday Gift List Planner: Organized by family, friends, pets, teachers and helpers, it's a snap to get your list down and check it off as you purchase and ship your items.
Holiday Card Planner: Keep track of everyone on your card list, when you prepare the card and when you send it.
Our Favorite Tshirt Collection