Christmas Pot Roast Recipe – for the Crockpot
This is a very simple recipe that let's you cook your entire Christmas meal in the crock pot, giving you time to enjoy the family, open presents and have a pretty darned relaxing day. The only thing you probably want to add to this, is a nice hot batch of Yorkshire puddings…and those are a snap to put together as well. Here's how to make Yorkshire puddings.
Ingredients:
• 1 pot roast – 4-5 pounds. A sirloin tip works well. Not too fancy, but not the cheapest stuff either. It will be a nice tender piece of meat after cooking in the crockpot for 8 hours.
• 3 -4 small onions
• ½ cup ketchup
• ½ cup cranberry sauce, with whole berries.
• 1 tsp ground mustard
• 1 tsp onion salt
• ½ tsp marjoram
• ½ tsp thyme
• 1 envelope beef stock
• ¾ beef stock prepared
• Salt and pepper to taste
• Carrots* – Use baby carrots, or peel carrots and cut them into 2 inch chunks.
• Potatoes* – You can use small yellow potatoes that have a nice sweet flavor, or cut up russet potatoes into smaller chunks.
* For the carrots and potatoes, how many you can add will depend on the size of your crockpot and your preference. If you love leftovers cook extra. The potatoes also taste divine as chips the next day. Just slice them, fry them in oil and then lightly salt them for a treat or breakfast item.
Also have on hand: Small bowl, measuring cups, crockpot, measuring spoons, knife and cutting board.
Serves: 8-10
Prep Time: Approximately 40 minutes
Cook Time: 8 hours
Preparation:
Peel and slice the onions into coin-shaped pieces.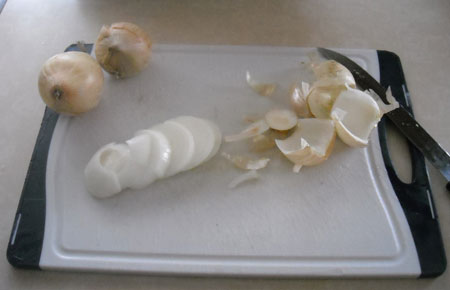 Make a small layer of onions at the bottom of the pot. They will keep the meat from sticking and they taste AWESOME afterward. If you like a lot of onions, feel to slice up more and add them.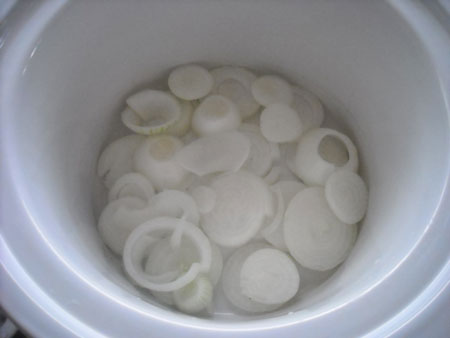 Salt and pepper the meat to taste. Carefully place the roast in the crockpot, on top of the onions.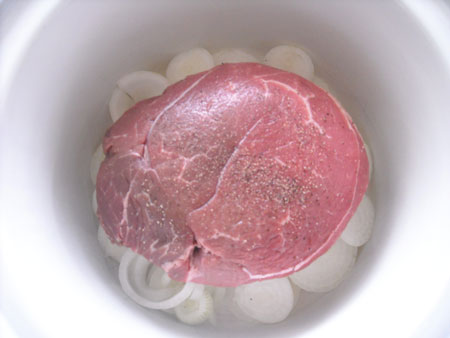 Gravy Preparation – It's ALL done ahead of time!
There's no need to mess with flour and make gravy after the roast is done. Put together a few ingredients, throw them in the crockpot and you've got ready-made and DELICIOUS gravy when you're done.
Start by mixing the following ingredient in a small bowl.
Add ½ cup of ketchup, ½ cup of cranberry sauce, 1 tsp onion salt, 1 tsp dry mustard, ½ tsp marjoram, ½ tsp thyme and 10 oz of prepared beef stock.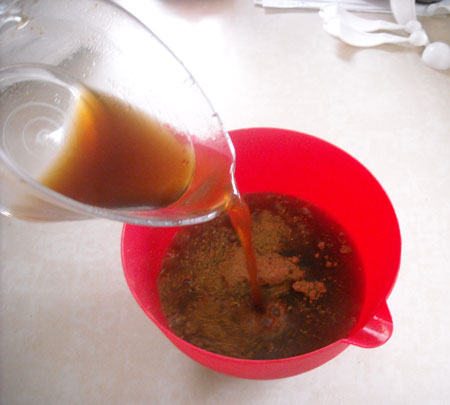 Whisk it, mixing it until it is smooth.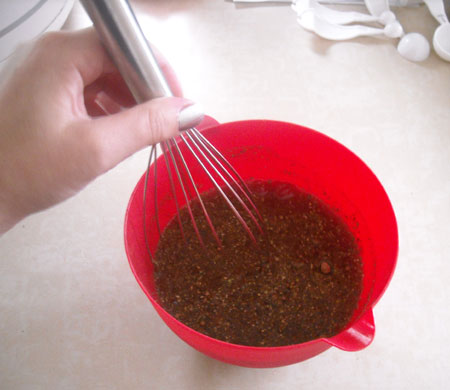 Set aside the gravy mix for a moment. We'll get back to it.
Add the Veggies & Gravy Mix
Place the potatoes around the meat. If you have smaller crockpot, as shown here, just tuck the potatoes in tightly down the side. There is plenty of liquid in this recipe that they'll cook very nicely and won't dry out or stick to the sides.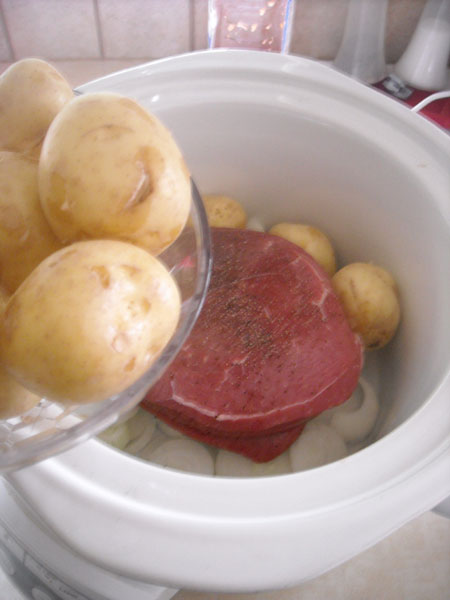 Then add the carrots.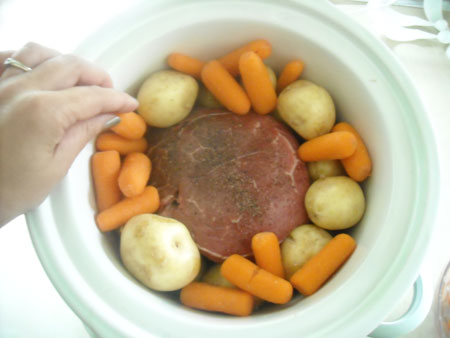 Finally, pour all the gravy mix in the center, over top of the meat.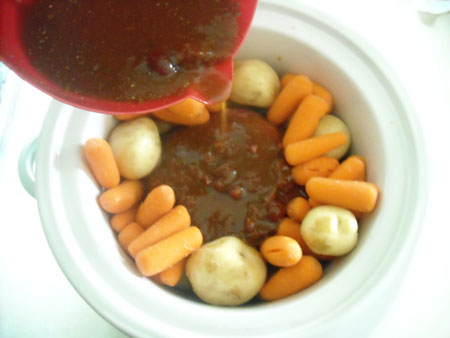 Start Cookin'!
All right, we're ready to start cooking. Put the lid on the crockpot.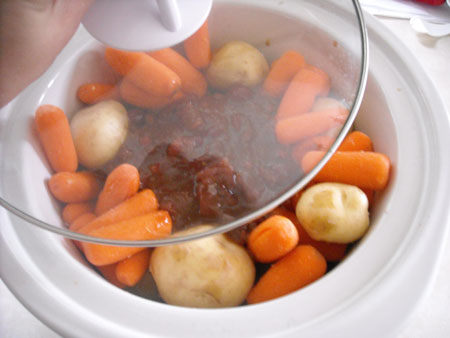 Put the crockpot on to cook at low for 8 hours.
Get Ready to Serve
After 8 hours, you've got delectably soft carrots, potatoes, meat and gravy.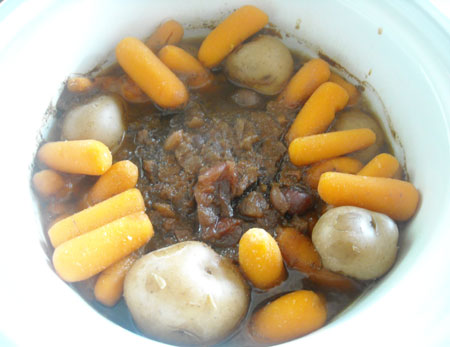 Start by removing the potatoes and carrots. Use a slotted spoon or fork, whatever works for you. You might take out the onions at this time or leave them with the gravy, depending on your preference. We usually remove some of the onions for eating (they're REALLY good) and then leave the rest for the gravy.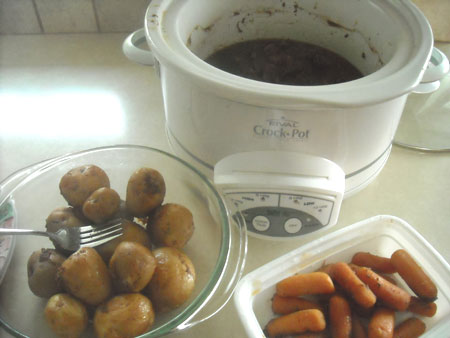 Remove the roast and get ready to slice. We use the word "slice" loosely though. This meat will be very tender and basically fall apart on you. But it's delicious and that's what matters!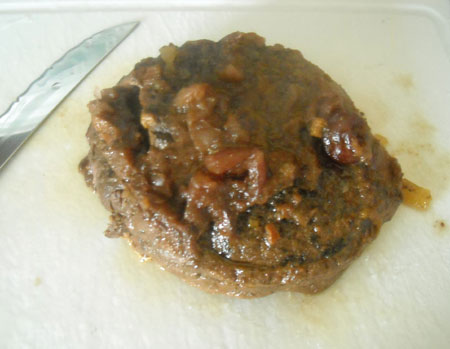 Pour the remaining gravy into a gravy boat or measuring cup.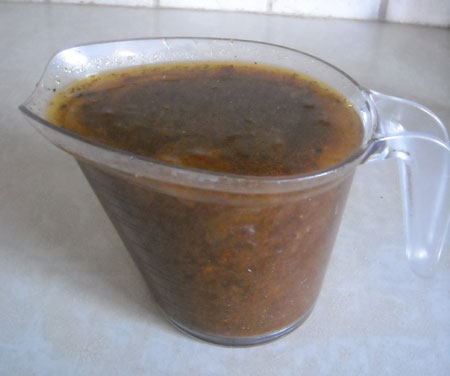 Our Favorite Tshirt Collection