Italian Cooking Recipes: Homemade Tomato Sauce
We've got some Italian cooking recipes coming your way in the next few days…so yummy! We have to start with the most basic, but most delicious first – homemade Italian tomato sauce.
Everyone loves Italian tomato sauce. It is found on many different authentic Italian dishes such as spaghetti, pizza, ziti, lasagna, etc. Thankfully, you don't have to come from Italy or have a little Italian nonna to make a great tomato sauce. This is a simple recipe that will have you singing "That's Amore" and your friends and family thinking you have been taking secret cooking lessons from Mario Batali himself.
Ingredients needed: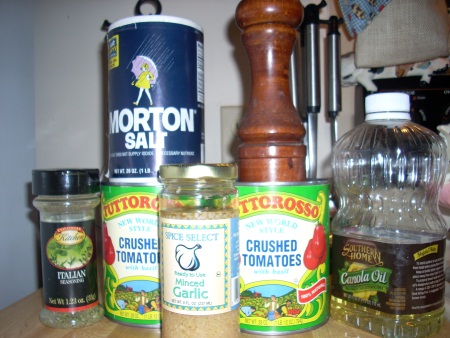 2 Large Cans of Crushed Tomatoes. Can be found absolutely anywhere these days. Stick with those that are manufactured in Italy and have an "addition" of basil or italian herbs added. This will yield the best taste results.
1.5 Tbsp Dried Italian Seasoning. I have found that dried seasoning works just fine and saves money, but still gets you that authentic Italian flavor.
1 Tbsp Fresh Minced Garlic or Jarred Minced Garlic. Jarred minced garlic is my choice as it keeps the garlic all the same size and that helps in even cooking.
Salt and Pepper to Taste. If you have a problem judging, add slowly. Remember you can always add more, but can't take it away.
2 Tbsp of Canola or Olive Oil. Each imparts a great flavor and are both heart healthy. Canola is a bit easier on the purse strings.
You will also need: 5 Qt. Stainless Steel pot. Just make sure the pot is not any smaller and comes with a venting lid. Measuring cups, measuring spoons and bowls.
Optional Ingredients: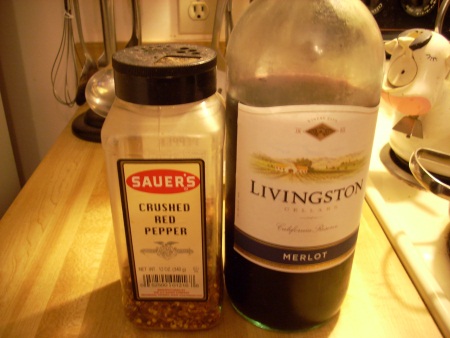 1/2 Cup Red Wine. Doesn't need to be expensive, but make sure it is at least something you could drink by the glass. The alcohol will render off during the cooking process, so no worries there.
Crushed red pepper flakes to taste. Like spicy sauce? Then you can add as much or as little as you may like. Remember this is not mandatory, totally an optional addition and your sauce will taste wonderful with or without it.
Serves: At least 8-10 people
Prep Time: 15 minutes
Cook Time: This can actually be consumed as soon as it is hot, but it is much better the longer it cooks. Optimum time is 8 hours at med/high heat.
Fry the minced garlic and oil.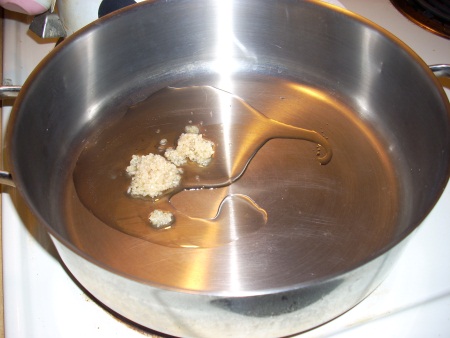 Add both garlic and oil in pot and fry on low/med heat until garlic begins to sizzle. Do not over brown garlic as it can become bitter. Entire process should take on average 2-3 minutes.
Pour both cans of crushed tomatoes into the same pot.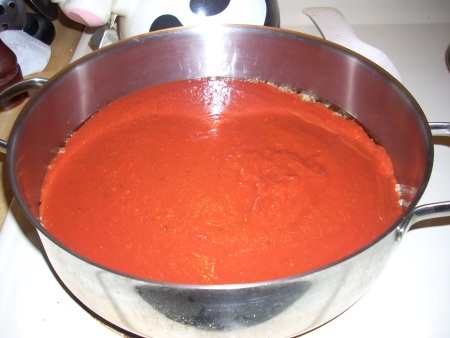 Add salt/pepper, italian seasoning, and optional wine and crushed red pepper if desired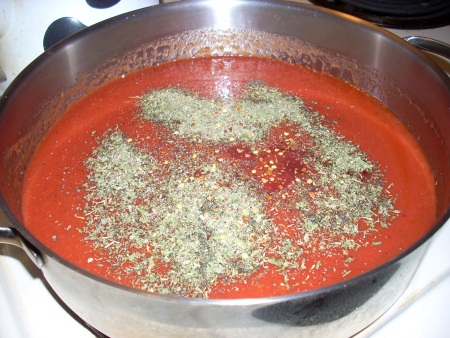 Mix all ingredients into tomato sauce until thoroughly incorporated.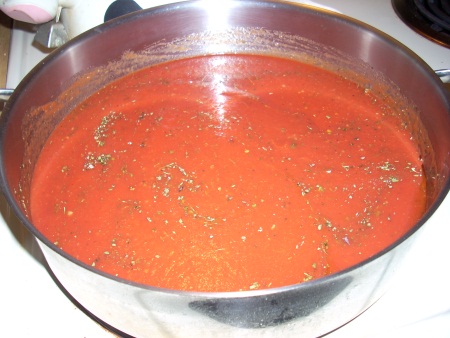 Cook on low heat for an optimum 8 hours, but will be wonderful after 3-4 hours as well. Can be used in a variety of different ways. Will stay fresh in the refrigerator for 3 days or up to three months in the freezer.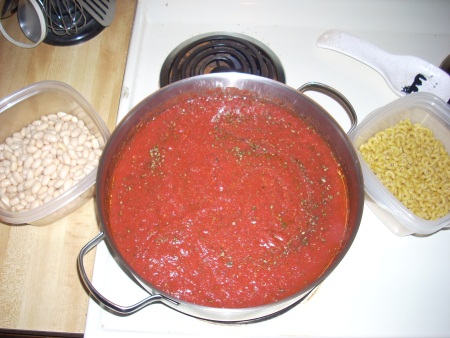 (insert pic labeled cookedsauce)
Our Favorite Tshirt Collection