S'mores are a fun summer treat typically created around a campfire. But just because you aren't near a fire doesn't mean you can't enjoy the goodness. We've taken this traditional treat and turned it into a frozen delight.
Important! The recipe calls for hot fudge ice cream topping. Do not try to substitute chocolate cake frosting or liquid hershey syrup for it. You will have a big mess!
In this recipe we have used chocolate chip cookies but these treats are equally great using snickerdoodles, peanut butter cookies and sugar cookies.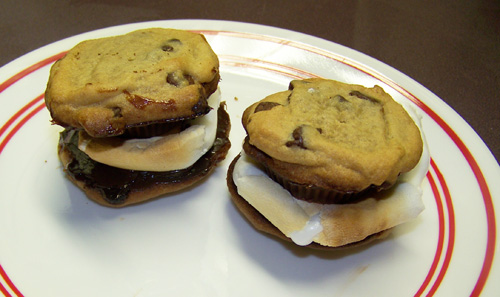 Ingredients:
8 pre-made chocolate chip cookies (fresh or store bought)
* Cookies should be about the same size as the mini peanut butter cups
4 marshmallows
4 mini Reese's peanut butter cups
4 tsp. hot fudge ice cream topping
Tip! You can use 1/4 cup softened vanilla ice cream per treat (1 cup total needed) for even more yummy goodness.
Directions:
Lay 4 cookies flat side up on a plate, tray or cookie sheet.
Spread ½ tsp. of fudge topping onto each cookie.
Toast marshmallows and immediately place on top of cookies; one marshmallow per cookie. Top with one peanut butter cup.
Spread the remaining four cookies with fudge topping.
If adding ice cream, spread it on top of fudge topping.
Place fudge/ice cream side down on top of peanut butter cup.
Firmly press to ensure everything sticks together.
Gently wrap each sandwich in plastic wrap.
Freeze for 1 hour. If using ice cream, you may need to freeze up to 2 hours for ice cream to become firm.
Makes 4
Our Favorite Tshirt Collection