Zucchini Bread – Whole Wheat and Delicious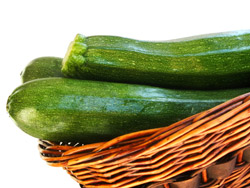 This bread packs an extra vitamin punch with the addition of zucchini. It also uses olive oil, instead of butter. Serve it warm and you'll be in heaven.
Ingredients:
3/4 cup cooked oatmeal
1/2 cup honey
1/2 cup olive oil
1/2 cup grated apple
2 cups raw, grated zucchini
1 tablespoon vanilla
3 cups whole-wheat flour
1 teaspoon salt
1 teaspoon baking soda
1 teaspoon baking powder
1 tablespoon cinnamon
How to Make It:
Preheat oven to 350 degrees. Then grease and 2 small bread pans. Set aside.
In a large mixing bowl combine oatmeal, honey, olive oil, apple, zucchini and vanilla. Beat ingredients until well blended.
In a separate bowl, sift flour, salt, baking soda, powder and cinnamon.
Add the flour mixture, a bit at a time, to the wet ingredients and blend well.
Pour the mixture into 2 small bread pans. Bake for about 1 hour. Allow bread to cool completely on a cooling rack before serving.
If You Prefer to Cook without Eggs and Oil
Here's a step-by-step video that shows you how to make No oil, No Egg Zucchini Bread. It also has chocolate!
Our Favorite Tshirt Collection