Ideas for Salad – Green Salad Made Yummy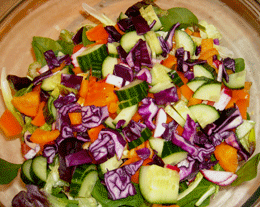 I love green salads. I love experimenting with different types of lettuce and adding a wide variety of ingredients. Here are some ideas for your green salad.
Lettuce:
I try a variety of greens. I usually like a nice spring mix or spinach mix and throw in some ice berg lettuce for crunch. You can also go for green leaf, romaine and others.
Vegetables:
There are not right or wrongs here for sure. These are some of my favorites and feel free to adapt to your own. Most of the time, I use raw vegetables, but roasted vegetables add great flavor too.
* Tomatoes (yes, I realize it's technically a fruit)
* Carrots
* Celery
* Peppers in a variety of colors
* Broccoli
* Cauliflower
* Kernel corn
* Asaparagus tips
* Artichoke hearts
* Cucumber
* Zucchini
* Eggplant
* Radish
* Cabbage
* Bean sprouts
* Alfalfa sprouts
* Peas
* Turnip
* Kholrabi
* Red onion
* Chives
Fruit:
* Berries
* Oranges
* Dried fruit
* Kiwi Fruit
* Mango
* Papaya
* Pineapple
Other Toppings:
* Bacon bits
* Ham or other thinly sliced meat
* Sliced chicken breast
* Nuts
* Sunflower seeds
* Croutons
* Fried capers (my personal favorite!)
* Shredded cheese of all kinds
* Raisins
* Hard boiled eggs
* Cooked, cold beans
* Water chesnuts
You're only limited by imagination. Bon appetit!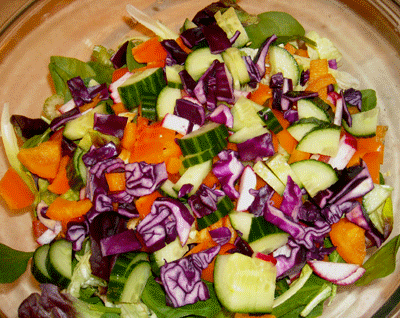 Our Favorite Tshirt Collection