How to Make Homemade Nachos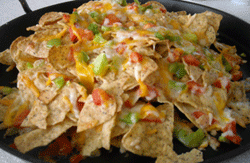 To go with the fresh guacamole, we need nachos, right?
Of course we do! Here are the ingredients you should gather:
* Tortilla chips (We used the multigrain Tostidos)
* Shredded cheddar and jack cheese combo
* Diced tomatoes
* Diced green peppers
* Sliced black olives (not pictured)
* Sliced jalapenos (not pictured)
And don't forget your dips like salsa, sour cream and guacamole.
Preheat your oven to 350F.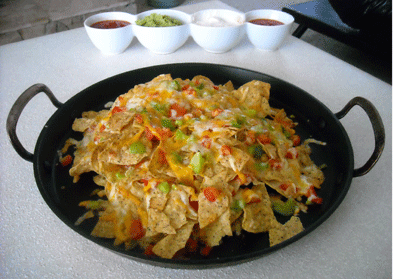 Putting together your nachos is easy. Add a layer of chips to an oven-safe pan. Sprinkle with tomatoes, peppers, olives and jalapenos. Top with a layer of the shredded cheese.
Repeat the process for another layer or two.
Place in the oven for about 20 minutes or so (how long depends on how big your nacho plate is). Cook until the cheese starts to bubble and brown slightly.
Serve with salsa, sour cream and guacamole.
Our Favorite Tshirt Collection