Homemade Fries in the Oven – Steak Fries
Feeling a little under the weather today, when I went to the grocery store, I was tempted to just buy frozen fries to go with our lunch. I fought the will to be lazy and less healthy, so I decided we'd make our own steak fries, adapted from Rachel Ray's Oven Steak Fries recipe that I found on Pinterest today.
I'm glad I did make the decision because these tasted better and were super easy.
Homemade Fries in the Oven Recipe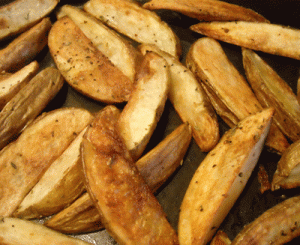 These are ready in about 30 minutes from start to finish, less if you like them less crispy. We like our fries crispy! This recipe serves about 4. Rachel Ray says 5 potatoes serve 4 people, but as a side dish 4 was perfect.
Ingredients:
4 russet potatoes, unpeeled
2 tablespoons olive oil
1 teaspoon thyme
1 teaspoon oregano
2 teaspoons Montreal steak spice
Preheat oven to 500F.
Cut the potatoes into small wedges. Our potatoes were medium-sized and I got about 8 wedges per potato.
In a large bowl, add the oil and all the seasoning and stir them well. Then add in the potatoes, stir to coat well.
Place the potatoes on a non-stick baking sheet and place them in the oven. Bake for about 20-25 minutes and flip half way through so they're browned nicely on both sides.
Delicious!
Our Favorite Tshirt Collection