Football Meatloaf Recipe for Game Day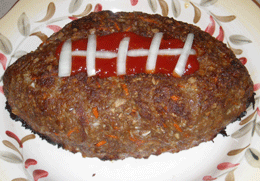 Now that the Super Bowl is over, there's no reason you can't have this one for your game day. This recipe is adapted from iVillage's Touchdown Meatloaf.
Ingredients:
* 1 pound ground beef
* 1/2 cup oats
* 1 grated carrot
* 1 medium onion, finely chopped
* 1 egg
* 2 tablespoons Worcestershire
* 2 tablespoons horseradish
* Salt and pepper
For topping and decoration:
* Ketchup
* Onion
Preheat oven to 350F.
In a large bowl, add ground beef, oats, carrot, onion, egg, Worcestershire, horseradish, salt and pepper. Work the ingredients with your hands until they are well combined and stick together well. On a non-stick oven safe pan, shape the loaf into a football shape. Make a well on the top of the meat where the ketchup and onion decoration will go.
Bake for about 50-60 minutes until fully cooked.
Add ketchup to fill the well you created. Top with thin slices of onion, arranged to look like the football's laces. Serve with mashed potatoes and enjoy!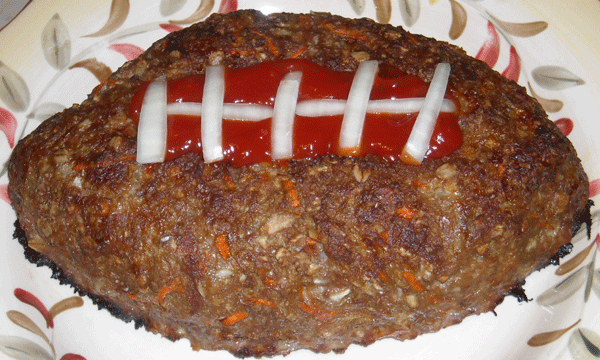 Our Favorite Tshirt Collection