If you've made some homemade turkey broth and have a little turkey leftover, you can make it into a delicious soup. There is pretty much no wrong or right way to make turkey soup, so check your pantry and let the creative ideas fly.
Turkey Noodle Soup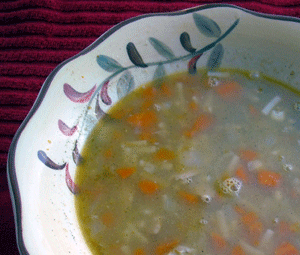 We're going traditional here. Chopped carrots, onion, frozen corn, soup noodles and turkey. We used the small soup noodles in this photo, but use larger egg noodles if you like a heartier soup. Or if you prefer rice, skip the noodles altogether.
Many recipes suggested frying the vegetables in oil or butter, but you can simply drop the vegetables into the broth for cooking. Harder vegetables like carrots, onion and celery take longer to cook than frozen corn, so cook those first.
Add your cooked meat and noodles during the last 5 minutes of the cooking process, so as not to overcook.
Seasoning suggestions include thyme, sage, marjoram or whatever you'd like. Add salt and pepper to taste.
Turkey Chowder
A variation on the thin soup, this one adds cream and flour to thicken the broth. Try your favorite vegetables and season with salt and pepper.
Mexican Turkey Soup
If you like a little spice in your life, here's a great soup for you. Vegetables can include red peppers, carrots, onion, corn. Add a little tomato paste to the broth and season up with cumin, chilli powder and paprika. Top with fresh cilantro and serve with tortilla chips.
Turkey Ramen Soup
Using packaged ramen makes this an easy soup to put together. Just don't use the seasoning that comes with it, use your homemade broth instead. Add some green onions and a dash of chilli oil and soy sauce. Get out your chopsticks and enjoy.
Our Favorite Tshirt Collection