Homemade Chicken Noodle Soup with Vegetables
This is wholesome homemade soup the whole family will love. It's made with homemade broth to reduce the sodium and boost the flavor, but if you don't have time to make stock, you can certainly use your favorite commercial brand. If you're using a commercial brand, consider adding bay leaves (remove them before serving), 1 tsp each of dried thyme and parsley.
What you need to get started
Really, you can use whatever vegetables your family likes to make the soup you love. In our example, we are using:
3 Carrots
1 Celery stalk
3/4 cup cauliflower
But ingredients like:
Corn
Zucchini
Green beans
Onion
Red or other colored pepper
Frozen peas
…works well too. Just chop them up finely (where appropriate) and you're good to go. Harder vegetables should boil longer and softer vegetables won't need as long.
Other ingredients you need
8 cups homemade seasoned chicken broth
Salt
Pepper
3/4 cup cooked chicken, cut into small pieces
1/2 cup uncooked soup noodles
Equipment to have on hand
You will also need a cutting board, sharp knife, vegetable peeler, measuring cups, large pot and spoon that can withstand heat.
Prepare Vegetables
Cut your chosen vegetables into small pieces. For our recipe, we peel and cut the carrots.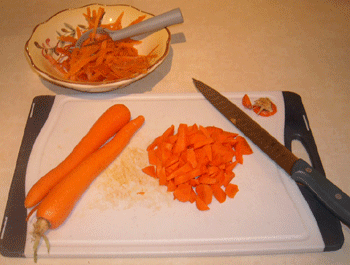 Finely chop the celery.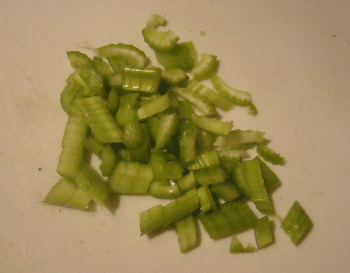 Cut the cauliflower into small florets.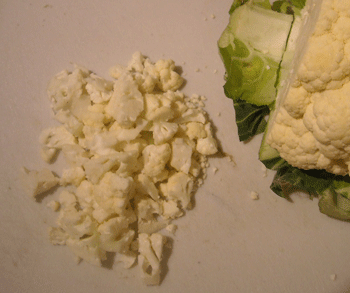 Start Cooking

Place your stock into a large pot and heat to boiling.
Reduce heat to simmer and add the carrots, celery and cauliflower. Add salt and pepper to taste.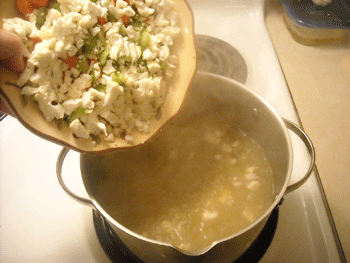 Simmer for about 10 minutes. Add the chicken pieces.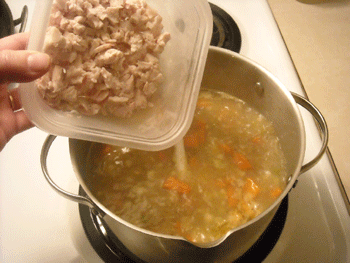 Then add the noodles.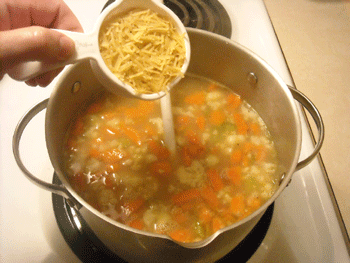 Simmer for about 5 more minutes and serve.
Our Favorite Tshirt Collection