Italian Cooking Recipes: Pasta E Fagioli
In our ongoing series of Italian cooking recipes, here's what you can do with that Italian Tomato Sauce we made yesterday.
Pasta e Fagioli is an old world Italian stew that the peasants ate because it was easy to make, inexpensive, and hearty. You can actually find different variations on the dish in restaurants throughout the country, most of them with a hefty price tag attached. This is authentic, hearty, simple, inexpensive and eaten by the last four generations of my Napolitano Italian family.
Ingredients needed: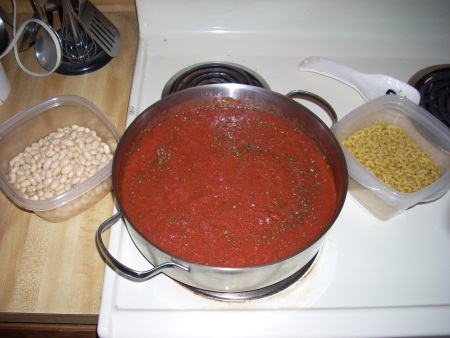 1 lb of "Short" Dried Pasta. The best pasta cut to use would be Ditali, Ditalini, and/or elbows. You can really choose whatever cut suits your fancy.
2 15oz Cans of Cannellini or Great Northern White Beans, Rinsed. You also have the option of buying dried beans, soaking them overnight, and boiling till tender. This takes a lot of time, but can be more cost effective then buying the canned variety.
3-5 Qts of Homemade Tomato Sauce. It is extremely imperative not to use jarred or canned sauce here. If you have never made homemade tomato sauce, it is simple to do and makes all the difference in your recipe.
You'll also need: A large cooking pot, a pot to boil water, mixing and serving spoons.
Serves: 8-10 depending on serving size
Prep Time: 20 minutes
Cook Time: Can be eaten as soon as heated through, but best to cook all day on med/high heat on stovetop.
Procedure:
Place homemade tomato sauce on stovetop to begin heating through.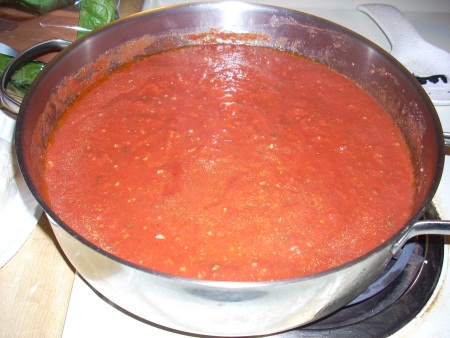 Add cannellini or great northern beans to sauce. Mix thoroughly.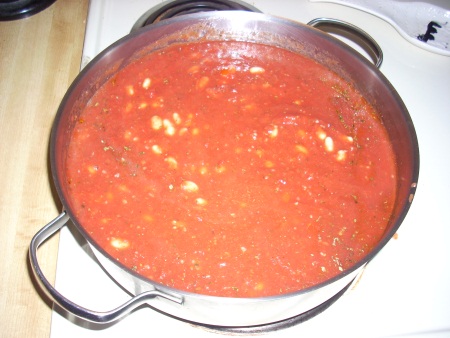 As the beans and sauce are getting hot, cook short cut pasta as per package directions. Add pasta to sauce/bean mixture. Mix well.
Cook on med/high heat for a minimum of four to six hours for optimum taste results. Serve with crusty Italian bread for dipping!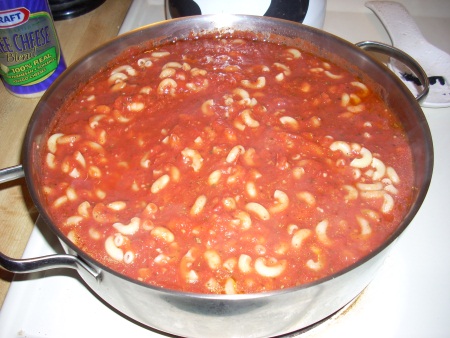 Our Favorite Tshirt Collection