Italian Cooking Recipes: Baked Ziti
Oh my…here's another yummy Italian recipe for you. This one is called Baked Ziti. If you've never heard of it before, you're in for a real treat.
Unfortunately though, it can be quite expensive and inconvenient to visit an Italian restaurant when craving a plate of authentic Italian Baked Ziti. What many people don't realize is that they can achieve that restaurant taste right from their own kitchen, and it is not that costly or even complicated to do. With a few simple steps, you and your family can be enjoying that delicious plate of baked Ziti in no time flat!
Ingredients needed: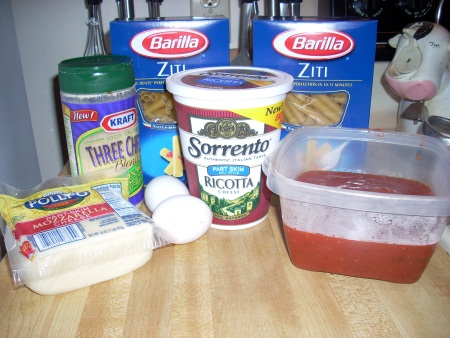 2 Boxes (1 lb each) of Dried Ziti Macaroni. We have all seen these on our supermarket shelves. Usually only a bit more then a dollar a box, choose a brand name rather then a generic supermarket brand and you'll be fine.
1 lb Block of Mozzarella Cheese. You can find it in the dairy department. Again, stick with a brand name. You can choose part-skim or whole milk mozzarella (only difference is the milk used to make the cheese), but do buy the whole block not pre shredded. Pre shredded tends to dry out, and it only takes a few minutes to shred it at home.
2 lb Container of Ricotta Cheese. Same rules apply for the ricotta as the mozzarella. Choose a brand name, but the choice of part-skim or whole milk is up to you.
2 Cups of Homemade Tomato Sauce. Jarred tomato sauce is not preferable here. Use your Italian Tomato Sauce recipe. Trust me, it will make a complete world of difference.
2 Eggs. You will need to incorporate the eggs into the ricotta later in the recipe.
Grated Parmesan Cheese to taste. You have the option here of purchasing something that is often extremely expensive (i.e. Peccorino Romano brand), or something less expensive (i.e. Kraft). The choice is yours, but honestly I use the cheaper option and no one can tell the difference.
Salt/pepper, Garlic, Dried Italian Seasoning, to taste.
You'll also need: A large aluminum baking pan, large mixing bowl, measuring cups, measuring spoons, mixing spoons. large pot, strainer, aluminum foil and a cheese grater.
Serves: 8-10 depending on portion size
Prep Time: Approximately 45 minutes
Cook Time: 1 hour covered at 350 degrees, 15 minutes uncovered.
Preheat oven to 350 degrees.
Pre boil Ziti according to package directions. When finished, drain thoroughly and place back in pot. Mix a few tablespoons of tomato sauce with Ziti so that macaroni does not stick together.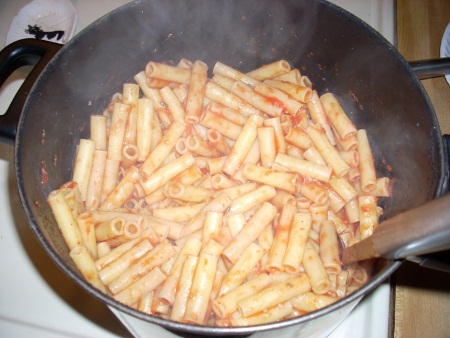 Grate mozzarella cheese. Leave in bowl and set aside.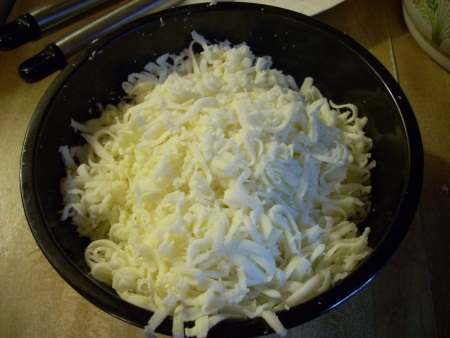 In large mixing bowl combine ricotta, eggs, grated parmesan cheese, seasonings to taste. Make sure everything is incorporated well. This will be your cheesy filling to your baked Ziti! Set aside, but not for long as mixture does have raw egg in it.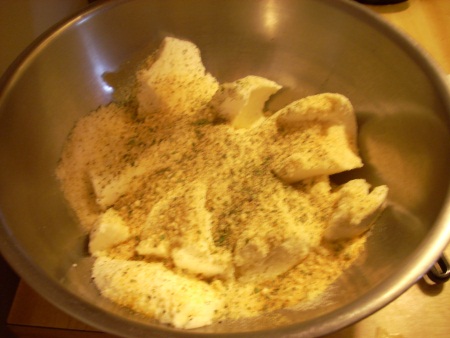 Place tomato coated ziti into aluminum baking pan. Dollop the ricotta mixture across the ziti.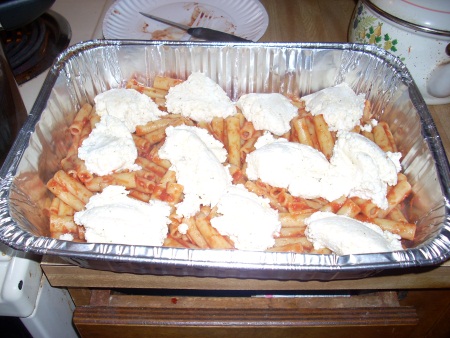 Follow with shredded cheese and tomato sauce, building layers as you go.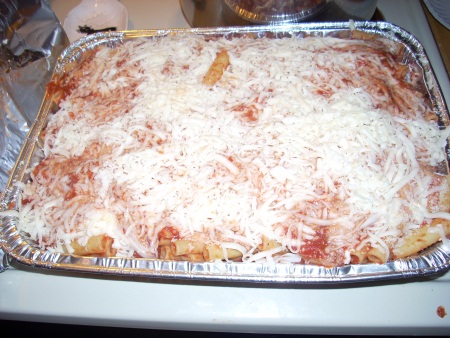 Cover loosely with aluminum foil and place in oven. Cook 45 minutes to one hour. Then uncover and bake for an additional 15 minutes or till cheese on top is melted and bubbly.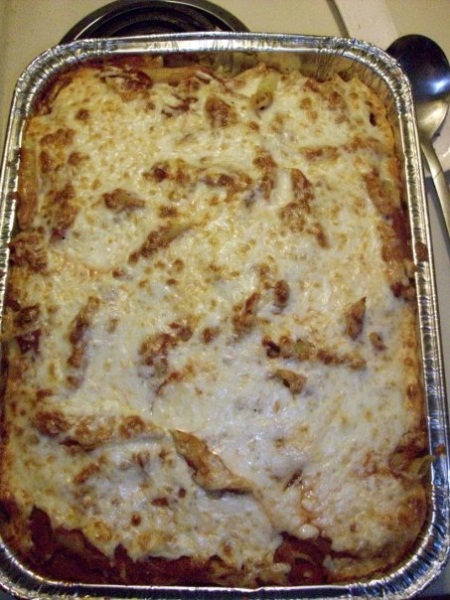 Other Recipes:
Our Favorite Tshirt Collection